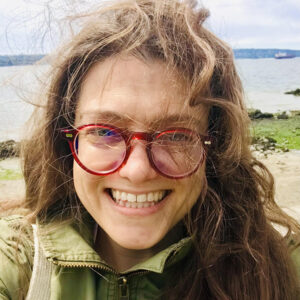 I began writing poetry as a child because I felt alive differently when I wrote. The page offered me a place to create on my own inventive terms, at my own pace, and under my own evolving directions. As a teen, I started taking poetry reading and writing more seriously. Inspired by some of the classics I read in school, like Shakespeare's plays and the poetry of T.S. Eliot (notably "Ash Wednesday"), I was also under the magic spell of hip-hop and the genius of MCs; I was hypnotically drawn to both the original beats and the lyrics in their storytelling. From hip-hop I learned the absolute delight of surprise in a turn of phrase. Eventually, I was introduced to The New York School poets who wrote about quotidian things like drinking soda and going to the movies; those poets helped me appreciate the poetry of my life and those around me more deeply. Near the end of high school, I met a lifelong friend who also wrote poems, and together we found a monthly open mic night to attend so we could be in the world of live poetry. This evolution to finding community was a significant turning point in how I read, wrote, and valued creative writing and its possibilities.
I did not study English literature at university, and I think it needs to be said that many writers do not take the English lit. route. No matter what topics of scholarship one engages in school, there is storytelling in every single field of study. My first creative writing workshop was in graduate school, where I found a vast, lively community of people who shared my curiosity for the world and drive to create with language. Unsurprisingly, I was drawn to OuLiPo in my mid-20s when I took workshops with some of the group's members. Since beginning my MFA in 2008, I have been writing and teaching writing, first in New York City and, more recently, in Toronto. Creative writing has shaped my relationships with people and places, including the natural world. Writing is quintessential to every aspect of my life—it cannot be separated out.
Writing is often a solitary act but can happen in community, sitting (IRL or virtually) alongside others. I write with my students and friends. I write in community workshops I lead and those I attend as a participant. What matters most to me in a writing space (a traditional or unconventional learning space) is that anyone who wants to attend can, and those who show up feel safe, free, and inspired to write.
One of my favorite poets, Paul Celan, said in a speech he gave shortly after surviving World War II—"Reachable, near, and unlost amid the losses, this one thing remained: language," and this declaration profoundly comforts and guides me with its startling truth, especially today. A person stands to find others and themselves not exclusively but profoundly in language, even in the darkest of times. I have found myself, over and over again, in language. My writing practice has been a constant, even a mainly gracious, space. I hope you reach out for language; I promise it is within your grasp.