The Write Time with Author/Activist Luma Mufleh and Educators Jessica Baldizon and William King
Luma Mufleh, an activist and author of Learning America: One Woman's Fight for Educational Justice for Refugee Children, has a discussion with CWP-Fairfield teacher-leaders Jessica Baldizon and William King.
Read more
Have Students Set Their Own Writing Goals
For teachers, it's vital to guide students in setting their own writing goals, promoting independence and self-reliance. Strategies like vision boards, goal-setting journals, and one-on-one conferences foster engagement and higher achievement in writing. Supporting individual goals alongside teacher objectives creates a nurturing learning environment.
Read more
;
Write Now Teacher Studio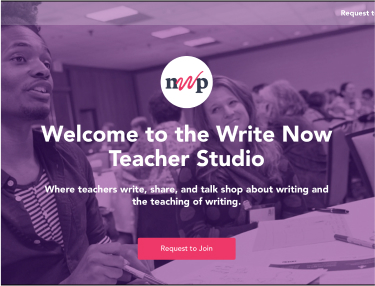 Where teachers write, share, and talk shop about writing and the teaching of writing
Hosted by the National Writing Project, the Write Now Teacher Studio is an open, online community of educators for educators. It's a place to write together, examine our teaching, create and refine curricula, and work toward ever more effective and equitable practices to create confident, creative, and critical thinkers and writers in our classrooms and courses.
Visit The Studio