As we come to the end of another school year, it's often a moment to pause and imagine what new and innovative things we can experiment with next year. Given our interconnected lives and the many urgent and contested issues facing our world today, reconsidering how to prepare our students to participate in democracy and in society seems warranted.
What skills, capacities, and dispositions do your students need to thoughtfully and productively navigate the world around them — and how might you support them in new ways?
Of course, students often have many skills when it comes to using digital platforms and tools. But they may not feel confident about using them to learn about issues they care about, engage in productive online dialogue, voice their perspectives in powerful ways, and take informed action.
Enter the Digital Civics Toolkit. This new toolkit is a collection of resources for educators to support youth to explore, recognize, and take seriously the civic potentials of digital life. It draws on the research and work of the Youth and Participatory Politics (YPP) Research Network.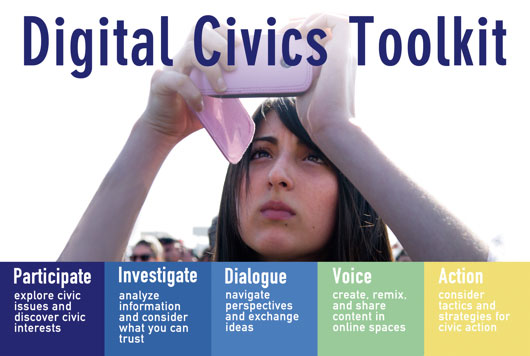 The Digital Civics Toolkit is organized into five distinct modules that each capture a key practice associated with digital civics:
We invite you to explore the modules and choose the resources that best meet the interests and needs of your students, classroom, and community. Each module contains a conversation starter, several activities, and a closing reflection to support students to synthesize their learnings.
If you'd like to dig deeper into concepts, there are also links to extension activities. For more information on the ideas in each module, we provide teacher background information with links to articles, blogs, videos, and further resources.
Listen in as we discuss the Digital Civics Toolkit on NWP Radio; this discussion includes the authors of the toolkit, including:
Erica Hodgin, Associate Director, Civic Engagement Research Group (CERG) at University of California, Riverside; Research Director, Educating for Participatory Politics Project
Carrie James, Research Associate and a Principal Investigator, Project Zero at Harvard Graduate School of Education
Sangita Shresthova, Director of Research, Civic Imagination Project, Annenberg School for Communication and Journalism at University of Southern California
We hope the Digital Civics Toolkit offers you engaging and relevant resources to explore over the summer as you plan and prepare for the coming school year. Let us know what you think in the comments below.
To find out more about preparing youth for civics and politics in the digital age, visit Educating 4 Democracy for more videos, resources, and readings.
COVID Poetry: How a New Genre is Helping Readers to Comprehend the Pandemic
Marcello Giovanelli, a Reader in Literary Linguistics at Aston University, has looked at the power of poetry to help a wide range of people in the UK, few of them poets, make sense of the pandemic. He wonders, is there a space for COVID poetry to play an important role in education as the pandemic wanes?
Read more
Wikipedia at 22
Writing and editing Wikipedia entries is an excellent task for older writers who are pursuing specialized knowledge. In this piece, the authors describe a rationale and process for their college-aged writers to participate in Women's History Month by adding to and editing entries on women. The focus here is women's history and experience, but any topic where teachers want to invite writers to contribute to a public knowledge base is fair game.
Read more