What Is Connected Learning?
This webpage offers an introduction and framework to explain how principles of connected learning can inform environments and practices that engage adolescents. This resource is a springboard for discussion of additional related materials that offer illustrations of teaching with connected…
Interest-based Learning and Passion Projects
In celebration of October's Connected Educator Month, this webinar focuses on creating opportunities, space, and time for all youth to be agents in their own learning. The participating educators draw inspiration from the Maker Movement and the Connected Learning principles as they share…
The Harry Potter Alliance: Connecting Fan Interests and Civic Action
This connected learning case study spotlights The Harry Potter Alliance, examining how utilizing the principles of Connected Learning allows the organization to engage a fan community in a variety of real-world civic action. It could be useful as part of an introduction to Connected Learning…
;
Write Now Teacher Studio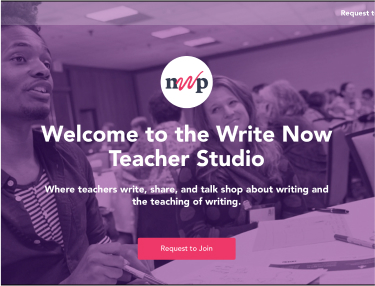 Where teachers write, share, and talk shop about writing and the teaching of writing
Hosted by the National Writing Project, the Write Now Teacher Studio is an open, online community of educators for educators. It's a place to write together, examine our teaching, create and refine curricula, and work toward ever more effective and equitable practices to create confident, creative, and critical thinkers and writers in our classrooms and courses.
Visit The Studio