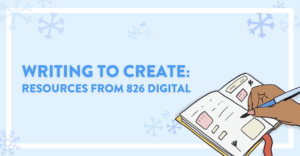 Every December, the days shorten and even the sunlight seems to dim. But that's all the more reason to respond with the bright light of creativity. That's why this holiday season, we at the 826 Network are highlighting some of our free writing resources from 826 Digital that support a "Culture of Creativity" — one of our 826 National core tenets. Each of these lessons invites students to try new ideas and experiment with their writing in meaningful ways, whether in the writing classroom or at home over winter break.
826 Digital lessons are designed to reach and engage every student, from aspiring authors to those still finding their path. If you are looking for ways to spark creativity with your students this holiday season, we invite you to start by exploring these resources:
For Character Development:
Meet Your Protagonist! | Lesson | Grades 7-9 
Students will learn how to develop well-rounded characters that readers really care about.
Me…a Villain? | Lesson | Grades 1-5  
Students will learn how to create a compelling backstory for the character and write short stories from the villain's point of view.
For Worldbuilding:
Setting-O-Matic | Spark | Grades 4-7 
Students learn to incorporate setting as a key element of a story, starting with inspiration from collages.
Details, Character, and Setting | Lesson | Grades 7-9 
Students will learn to draw details from real life to create unforgettable characters and compelling stories.
For Dialogue:
The Dialogue Shuffle | Spark | Grades 3-9 
Students learn the need for strong dialogue in narratives.
The Dialogue Alphabet Game| Lesson | Grades 4-7 
Students learn to create realistic conversation in A-Z fashion.
Like a campfire, creativity requires attentiveness; a commitment to tending the embers of your inspirations, joys, and curiosities. When students write with 826 Digital, they tap into their creative flame, and fully embrace the power, brilliance, and joy within themselves. And with each new word, their voices transcend the page to bring us stories that paint a portrait of the world as they see it and of the world as they hope it to be.
Inner Realms Journey
If you can imagine the place where role-playing games, meditation, and mindfulness meet for fun and learning, you might be close to Inner Realms Journey.
Read more