Summary:
In this clip from NWP Radio, Steve Athanases and Juliet Wahleithner describe a preservice program at UC-Davis that incorporates teacher inquiry. The speakers provide a rationale for including inquiry during field experiences in culturally and linguistically diverse classrooms as a way to turn students' attention to what they can learn from careful thinking and observation of students. Useful as an example for those designing teacher inquiry programs, the clip might also inspire activities for NWP collaborations in preservice programs or activities for working with diverse learners. See links to articles with detailed discussions of inquiry processes and rubrics.
Listen to the Show

Duration: 17 minutes | Download
Excerpt from the Show
Steve Athanases of University of California at Davis, on the importance of implementing research and inquiry skills at the start of a teacher's career:
"If preservice teachers can have inquiry become part of their repertoire early on, it can become internalized. They might not realize the toolkit they are developing that is going to be available for them to tap into. It's an innovation in teacher preparation that can serve the teacher population effectively. It's challenging and potentially really enriching."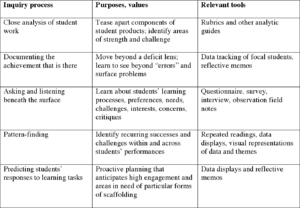 Read more at Learning About English Learners' Content Understandings Through Teacher Inquiry: Focus on Writing  by Steven Z. Athanases, Juliet Michelsen Wahleithner & Lisa H. Bennett in The New Educator Volume 9, 2013 – Issue 4
Developing a Definition of Teacher Research
A group of experienced K-12 teachers and teacher-consultants from the Northern Virginia Writing Project engaged in teacher inquiry for several years to improve their teaching. The process and the findings from their research reverberated throughout their school system and influenced how their schools were run. This chapter provides a clear and detailed definition of teacher research, and will be useful both as a guide for those planning to facilitate teacher inquiry and as an introductory reading for teachers participating in their first inquiry project.
Read more