Summary:
Jason Shiroff shares the Sequence of Inquiry Project that he uses when introducing students to wikis and other new technology.
The inquiry process is at the heart of all the technology tools I use with my students. This page shows the common sequence I use when introducing students to a new technology.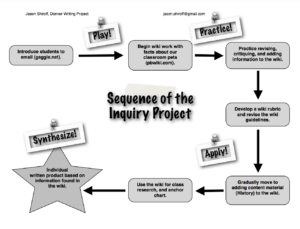 Write Out Into the Winter Holidays
Even though the sun stays a bit lower and leaves us more quickly during the winter months, that doesn't mean that we can't spend time outdoors and do some writing. Here are a few cool activities that we saw during Write Out 2022 that you might want to try with your family and friends over the upcoming months and holidays.
Read more