Blog
Teacher Inquiry
"Make Cycles" of the DigDiscourse Summer Collaborative
Teachers exploring digital discourse in humanities classrooms
Have you heard yet about DigDiscourse and its flexible "Make Cycles"?
The DigDiscourse Summer Collaborative is a free open online experience designed by teachers for teachers in the humanities kicking off for the summer on June 3, 2023. It is meant to support learning at a time where you might have a bit more flexibility alongside a need to do something fun and creative; you can follow your interests and come and go as you desire and your schedule allows.
So wondering how that works? The summer is organized around 3 two-week "Make Cycles," each designed around a different aspect of using digital discourse to enjoy and explore the literature, art, and materials we love for ourselves and our students. Each cycle has a different focus – one is on Social Exchange (ie. exchanging ideas with each other related to a text), one is about Social Annotation (ie. exchanging ideas with and through a text), and the third is about Social Making (ie. exchanging ideas by making something related to a text).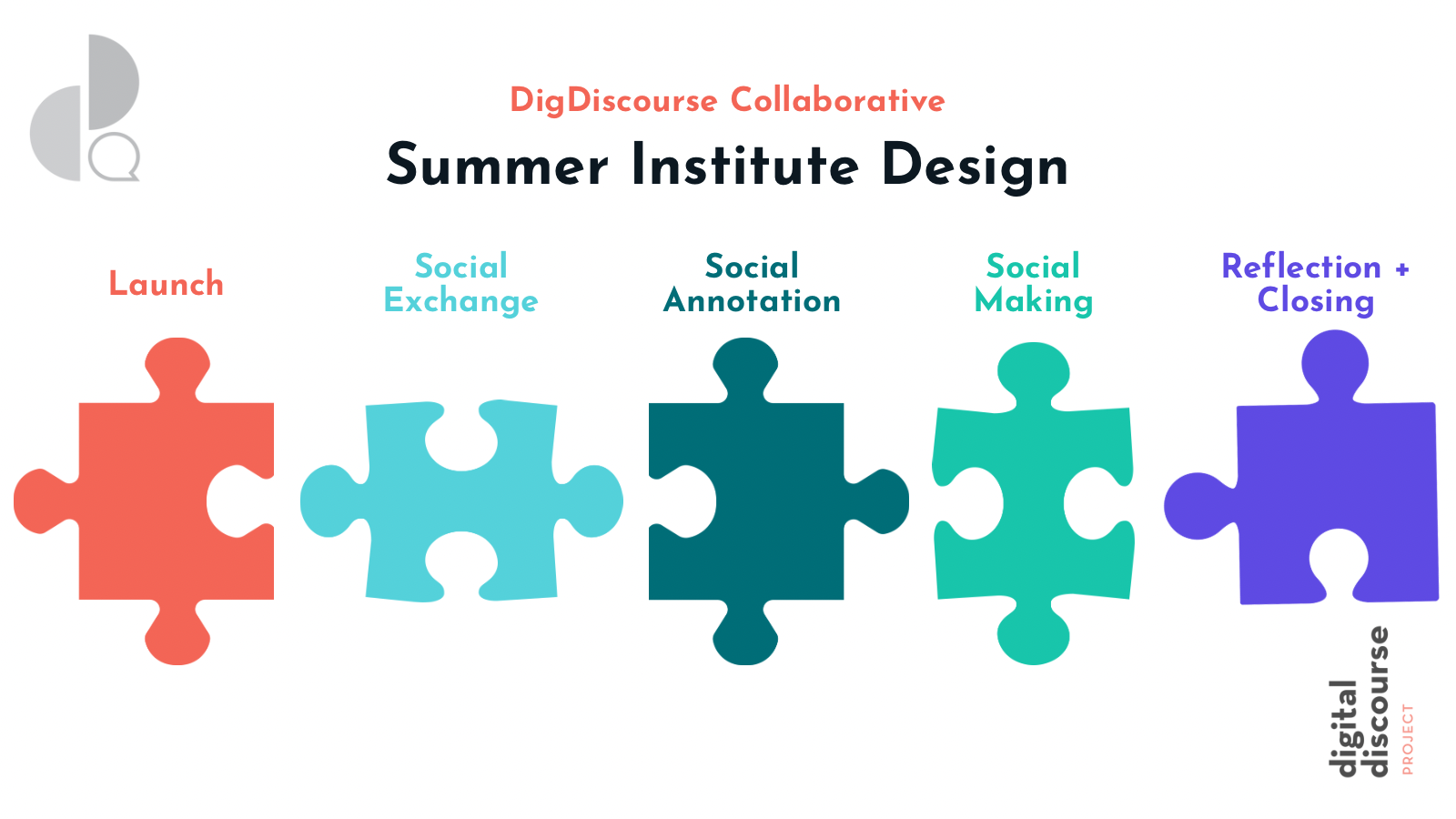 What exactly is a "Make Cycle" you might be asking. Well, a cycle of making is really a rough description of a process that a maker goes through when creating something … really, anything! While acknowledging that no one makes and creates in the exact same way, make cycles are meant to describe at least the different aspects of making that most often come into play, whether we are baking bread, building a bridge, or composing a sonata.
Our Make Cycle was developed during the Connected Learning MOOC, or #CLMOOC, and is based on the idea that an open-ended invitation to make, compose, play, learn, and connect is supportive of Connected Learning and professional growth (Smith, et al, 2016). The DigDiscourse Summer Collaborative is organized around these kinds of creative cycles in order to support teachers in having the time and space to explore ideas, to connect and learn from colleagues, and to make things for themselves and their students.
Each DigDiscourse Make Cycle will invite you to engage in creative curricular challenges while tinkering with a range of digital tools alongside inspiration provided by colleagues sharing examples of student work and their own classroom inquiries. Along the way, you will be prompted to do reflective thinking as well as get input and feedback from your fellow makers. And collectively we will build a repository of great stuff for our teaching and digital dialogue practices.
Ready to give it a try? Visit digdiscoursecollab.nwp.org to learn more and join us this summer's fun.
---
The DigDiscourse Summer Collaborative is designed and facilitated by teachers from the Denver Area Writing Project and the Philadelphia Writing Project, who are members of the Digital Discourse Research Project, a research initiative funded by the James S. McDonnell Foundation in partnership with the University of Pennsylvania and the National Writing Project.
The Write Time with Author/Activist Luma Mufleh and Educators Jessica Baldizon and William King
Luma Mufleh, an activist and author of Learning America: One Woman's Fight for Educational Justice for Refugee Children, has a discussion with CWP-Fairfield teacher-leaders Jessica Baldizon and William King.
Read more
Have Students Set Their Own Writing Goals
For teachers, it's vital to guide students in setting their own writing goals, promoting independence and self-reliance. Strategies like vision boards, goal-setting journals, and one-on-one conferences foster engagement and higher achievement in writing. Supporting individual goals alongside teacher objectives creates a nurturing learning environment.
Read more