Summary:
This episode of The Write Time celebrates the joy of poetry and youth in sports, and features Sarah J. Donovan, Kristin Bartley Lenz, Stacey Lorinn Joy, and Jayné Penn.
Original Date of Publication: March 31, 2022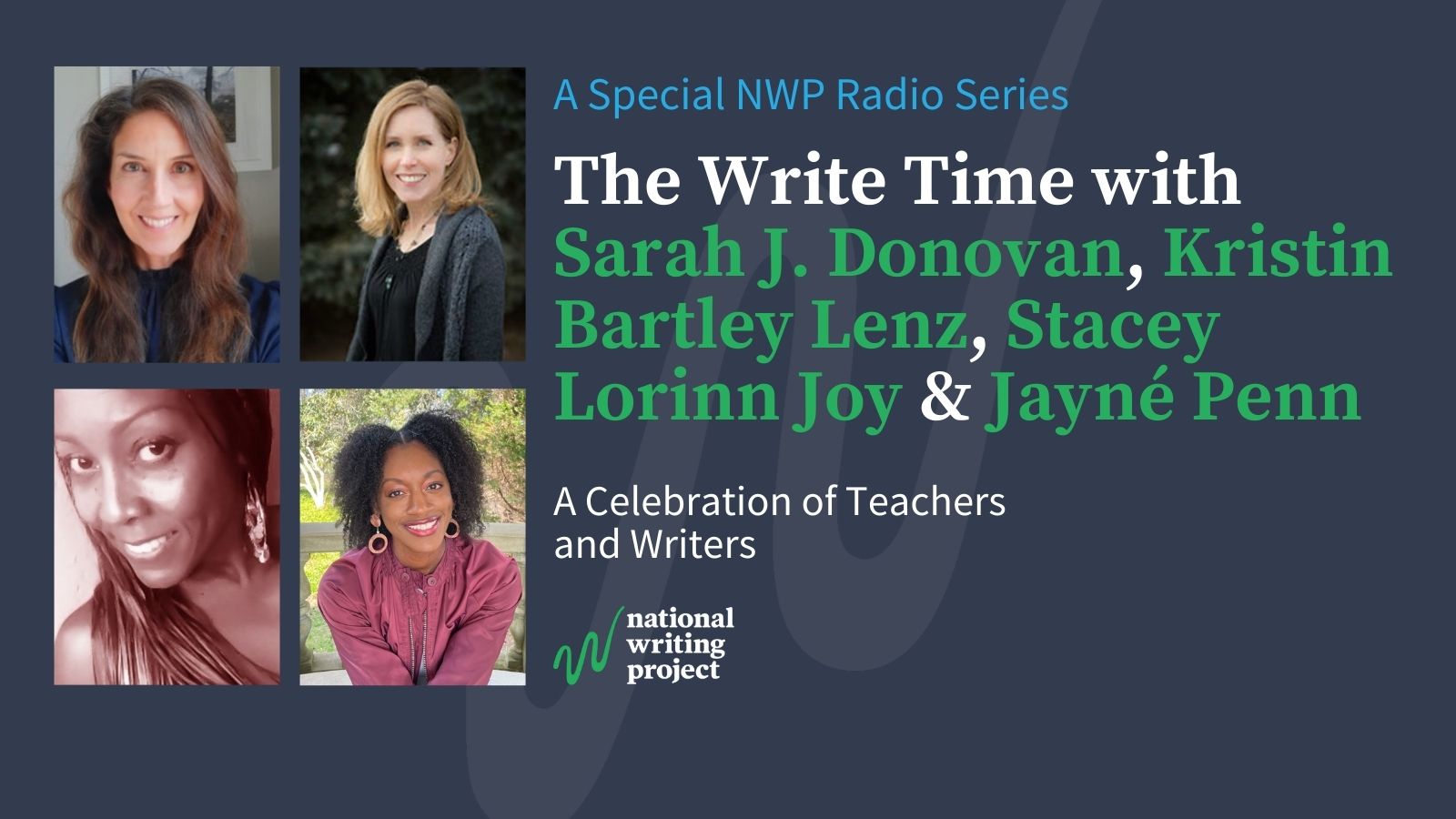 Download | Subscribe: Apple / Spotify / Soundcloud
Sarah J. Donovan, PhD, is a former junior English language arts teacher of fifteen years and an Assistant Professor of Secondary English Education at Oklahoma State University. She wrote Genocide Literature in Middle and Secondary Classrooms (2016) and the young adult novel, Alone Together (2018). Dr. Donovan was the Books in Review columnist for The ALAN Review (2019) and served as a state representative and board member for The Assembly on Literature for Adolescents of NCTE (ALAN). She hosts a weekly blog, Ethical ELA, and has contributed chapters to The Best Lesson Series (Talks with Teachers, 2018), Queer Adolescent Literature as a Complement to the English Language Arts Curriculum (Rowman & Littlefield, 2018), Moving Beyond Personal Loss to Societal Grieving (Rowman & Littlefield, 2018), and Contending with Gun Violence in the English Language Classroom (Routledge, 2019).
Kristin Bartley Lenz is a writer and social worker who has lived in Michigan, Georgia, and California. Her debut young adult novel, The Art of Holding On and Letting Go, was a Helen Sheehan YA Book Prize winner, a Junior Library Guild Selection, and an honor book for the Great Lakes Great Books Award statewide literature program. Her writing has been published in a YA poetry anthology (Rhyme & Rhythm: Poems for Student Athletes), The New York Times, Writer's Digest, Hunger Mountain, Literary Mama, Women On Writing, and more. She also writes freelance for Detroit area nonprofits and teaches creative writing for teens and adults.
Stacey Lorinn Joy, born and raised in Los Angeles, is a National Board Certified Teacher, Los Angeles County Teacher of the Year, and self-published poet. She has been teaching in elementary education for 37 years. In addition to her self-published book, Naked Reflections: Shamelessly Sensual Poetry, she has poems published in Savant Poetry Anthologies, Teacher Poets Writing to Bridge the Distance, and Rhythm and Rhyme: Poems for Student Athletes.
Jayné Penn is an English teacher and cross country coach at Fairfield College Preparatory School in Fairfield, Connecticut. As a Division I Track athlete at Georgetown University, she grew interested in sports stories and community activism. She was also a recipient of the 2018 Dean's Award for Student Excellence at Fairfield University, with a thesis focus on sports literature in the classroom. Currently, Penn has looked to the potential of Young Adult Literature, with a focus on sports in many texts, as a vehicle to explore empathy with her students.
Watch the Video
Write Out Into the Winter Holidays
Even though the sun stays a bit lower and leaves us more quickly during the winter months, that doesn't mean that we can't spend time outdoors and do some writing. Here are a few cool activities that we saw during Write Out 2022 that you might want to try with your family and friends over the upcoming months and holidays.
Read more