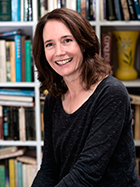 I love to give presents. I get a lot of pleasure out of picking exactly the right thing for someone and imagining how much they'll enjoy it. And as I've spent more and more time writing, I've come to think of stories as presents I can give to people—especially since I'm hopeless at crafts and the domestic arts. No one is liable to be happy to get a jar of homemade fruit mush hopefully labeled "jam" from me. And I once famously brought a batch of rock-hard "paleo balls" to a holiday cookie party. But they might like something that diverts them at the end of a long day, or interrupts the confusion, sadness or isolation that all of us feel occasionally (or sometimes all the time). And when it comes to telling stories, that is something I think I can do.
My love for giving gifts saved me when I was stuck in an especially difficult point in my first novel, Dreamwood . This was a middle grade fantasy I'd started as a break from another project, a book full of Important Ideas, but conspicuously absent of the storytelling ability that would make anyone care to read it.
In the midst of my flailing, I had an idea for a story that I thought my sister might like. She's a big reader of fantasy, and over the years she and I have spent a lot of time comparing notes on what we've enjoyed. We still get together on the phone and talk about books. Thanks to her, I have some inkling of what's going on in urban fantasy, and am forever grateful that she turned me on to Jim Butcher and The Dresden Files.
The books that I treasure still feel like a gift meant for me. Something that shores me up in bad times, and helps me soar in good.
I wrote the first draft of Dreamwood as a present to her and me as we used to be: two voracious fantasy readers who loved magic and spookiness and strong girls.
To my surprise, I sold the book, to an editor who found bits of it "delicious." (It's certainly the first time any of my creations have been so described!) But as I worked on it, I ran into trouble. I grappled with the sense that I needed to "do something important" with this book, something that would justify myself in the eyes of my colleagues and co-workers as well as my former MFA classmates.
At a dark moment I realized that my intentions with what I was writing were all about my own ambitions. And they were getting me nowhere.
I went back to my original thought of writing something my sister might enjoy. I thought about books that made a difference to me as a child, what they gave to me. And I realized I was working myself into knots over the wrong thing. I realized the way forward was to think of my story as something I wanted to give a reader. The thing that mattered—the only thing that mattered—was thinking of what I wanted to give to someone else.
I began to write with a different purpose. My aim became to make it into a present. In my notes about the book, I have an entry: "Create the book that someone hugs to their chest because it makes them feel their best self."
The books that I treasure still feel like a gift meant for me. Something that shores me up in bad times, and helps me soar in good.
Since then, a friend has given us a copy of Lewis Hyde's book, The Gift, which looks at art and creative activities as gifts, outside the market. It's become a useful reminder for me to think of others and their own delight whenever I sit down to write.
When I write I try to remember that all I'm doing is giving a present. That thought helps me when I get waylaid by self-doubt or start comparing myself to other writers. Of course, I work hard at my craft and I try constantly to improve, to challenge myself, and to learn from other writers. But I also know that even humble gifts can make a difference to someone.