Four Fresh Ways of Looking at the Bell Ringer
The 'bell ringer' is one of the most common pedagogical tools. In this resource, Tanya Baker investigates ideas from the blog Metawriting by Morehead Writing Project director Deanna Mascle (aka the writing evangelist). Deanna believes everyone is and should be a writer, and her use of bell…
Rethinking Field Trips
In San Diego, teachers and museum educators joined forces to create a new model for museum field trips—one that pleased students, teachers, and museum curators alike. Read this post to learn about their different kind of field trip and to access field trip resources.
The Writer's Memo
A writer's memo helps to shift the responsibility for the writer's growth from the teacher to the writer themself, promoting self-reliance, independence, and autonomy.
;
Write Now Teacher Studio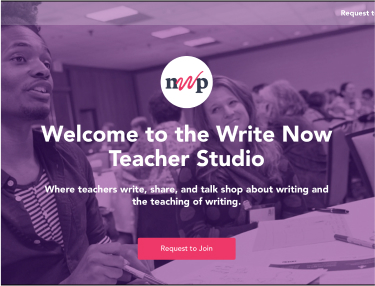 Where teachers write, share, and talk shop about writing and the teaching of writing
Hosted by the National Writing Project, the Write Now Teacher Studio is an open, online community of educators for educators. It's a place to write together, examine our teaching, create and refine curricula, and work toward ever more effective and equitable practices to create confident, creative, and critical thinkers and writers in our classrooms and courses.
Visit The Studio