Hey Matt! There's a Reason We Write Like Every Day!
Students often wonder why they have to write every day. In this piece, with her students as her audience, one teacher outlines and then elaborates the beliefs that guide her teaching of writing. Points of use for this article may be early in summer institutes or school partnerships to guide…
Writing As a Mode of Thinking
What's missing in writing instruction that focuses on organization, vocabulary and sentence structure? What is the role of thinking in writing, and how can we make thinking visible in writing? This article, which could provide a useful focus for a study group or other professional…
;
Write Now Teacher Studio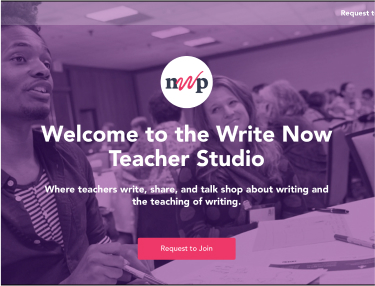 Where teachers write, share, and talk shop about writing and the teaching of writing
Hosted by the National Writing Project, the Write Now Teacher Studio is an open, online community of educators for educators. It's a place to write together, examine our teaching, create and refine curricula, and work toward ever more effective and equitable practices to create confident, creative, and critical thinkers and writers in our classrooms and courses.
Visit The Studio