We are flying less this summer. Air traffic has decreased 95% worldwide. So perhaps it is a good time to re-examine the concept of "flyover country." And "drive-through country" won't be any better.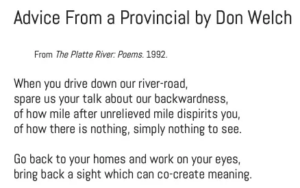 At the Nebraska Writing Project, teachers and students reject those epithets entirely. Since 1995, Nebraska teachers and Writing Project siteleaders have been working on their own models of place-conscious education. Following the advice of Nebraska poet and "provincial" Don Welch, they have been working to "bring back a sight that can co-create meaning" and to cultivate that sight in their students.
Now, in a seven-part audio series released this July, Robert Brooke, director of the Nebraska Writing Project, and several Nebraska teacher-leaders introduce their place-conscious approach and discuss several projects and partnerships that have expanded and deepened the approach over the years.
In the meantime, begin your own place-conscious writing with this exercise from Robert using the Don Welch poem above. Listen to the 5 minute audio below and #WriteNow.
COVID Poetry: How a New Genre is Helping Readers to Comprehend the Pandemic
Marcello Giovanelli, a Reader in Literary Linguistics at Aston University, has looked at the power of poetry to help a wide range of people in the UK, few of them poets, make sense of the pandemic. He wonders, is there a space for COVID poetry to play an important role in education as the pandemic wanes?
Read more
Wikipedia at 22
Writing and editing Wikipedia entries is an excellent task for older writers who are pursuing specialized knowledge. In this piece, the authors describe a rationale and process for their college-aged writers to participate in Women's History Month by adding to and editing entries on women. The focus here is women's history and experience, but any topic where teachers want to invite writers to contribute to a public knowledge base is fair game.
Read more